ABOUT ADVANTAGE AIR
Advantage Air is a family owned business and ready to take on your job! We provide exemplary heating and air-conditioning services to the residences and businesses in Las Vegas and surrounding areas.
What makes us different? We are certified and work on all units both aircooled and water cooled units.
Advantage Air is a family owned business and ready to take on your job! We provide exemplary heating and air-conditioning services to the residences and businesses in Las Vegas and surrounding areas.
From single installations to complete office systems, Advantage Air offers sales, repairs, maintenance, and service on all kinds of heating and air-conditioning systems. Our experience on residential and commercial units is exceptional.
We always promise to be professional, respectful of your property and provide you with a honest diagnosis of your problem. Our mission is to do the right thing and "Fix It Right The First Time".
If you are in doubt of another contractor's diagnosis, we welcome the opportunity to earn your business with a FREE second opinion!
Certified Member Of IBEW (International Brotherhood Electrical Workers)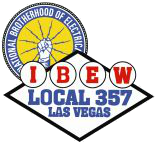 A Core Belief:
We are passionate about educating you, our customer, why you should consider a high-quality cooling and heating unit, just as you would do when buying a car.
Why a high-quality heating and cooling system?
When working with a licensed contractor, it is critical to understand the key differences between heating and cooling brands and the units they offer, to make an informed decision that will affect your house for decades.  It is also very important to ask your contractor the following questions:
What questions should you ask?
What is my air duct size and what is your heating and cooling unit's size?
The air duct and the AC unit have to be correctly sized for each other, to ensure proper and efficient performance.
Undersized HVAC ducts will put high pressure on the vents; there will be noise and poor, inconsistent temperature.
Oversized ducts will result in an overworked system because it would take much longer for the heated or cooled air to get through the vents.
Will you be making any modifications to the air duct of my house? Do not consent to any physical modifications.
This question is important to ask because you do not want the contractor to install an incorrectly or poorly fitted unit.  As explained above, the licensed contractor needs to ensure a perfectly sized air duct and heating and cooling unit combination. 
What is the brand, SEER rating, and the HSPF factor of the heating and cooling unit you are offering for me to buy? Why do you recommend this particular brand and how is it different from other brands?
If the contractor offers an HVAC unit lower than SEER 14.3, do not buy it! In addition, ensure that the heat pump's HSPF is 8.8.
Did you know that starting from January 1, 2023, the Department of Energy has raised the minimum efficiency standards? The minimum seasonal energy efficiency ratio (SEER) for cooling systems in Nevada is now 14.3 SEER, and the heating seasonal performance factor (HSPF) – the heat pump efficiency has increased from 8.2 to 8.8.
What is covered under the warranty with your new system? 
Advantage Air, for example will provide a warranty of 10 years for crucial parts, labor, etc. Ask the contractor to provide detailed warranty information.
Why do we love York heating and cooling systems here at Advantage Air?

We love York because:
York is a trusted heating and cooling provider since 1903.
York manufactures very high-quality heating and cooling systems, thermostats, and refrigeration products. It is known for its excellence, quiet performance, reliability, low cost, and long-term life. It is a smart investment!
York has the Good Housekeeping Seal of Approval:
Only two companies have the Good Housekeeping Seal of Approval, which is the only independent 3rd party laboratory test of the HVAC equipment. (Armena's question – What does this mean?? I was reading an article, and it seems this is an important distinction between York and other)
Two-stage furnace vs single stage furnace:
The two-stage furnace type is like a smart meter, smart phone, or a thermostat. Unlike the single stage furnace that operates at full power 100% of the time without shutting off, the two-stage switches between two power modes – low and high. This allows for energy conservation and reduction of temperature fluctuations and uneven heating.
Superior warranty:
York offers a minimum of 10 years of limited coverage on parts, plus labor costs within the first year. In addition, some models have lifetime compressor warranties. If installed correctly by professionals like Advantage Air, the York systems will last for decades and make your home the most comfortable place!
All of our products come with the standard warranty. See below for more information:
When it comes to systems in your home that are NOT GREEN, air conditioning is at the top of that list. Approximately 50 percent of the energy use in the United States during peak summer months is air conditioning. Air conditioning is responsible for probably over 100 million tons of carbon dioxide emissions each year.
Ask About Our Free Maintenance Program With Qualified Purchase